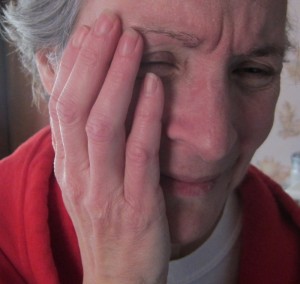 In May, 2010, I had the onset of severe and chronic facial pain, also known as trigeminal neuralgia.
My journey in the system was complicated and frustrating. On November 15, 2012, the diagnosis of MS was officially confirmed by a neurologist at the UBC MS Clinic. There are at least two lesions on the part of the brainstem (right pons) that correspond to the pain I had in my face.
Previous diagnoses were 'trigeminal neuralgia' by an oral medicine/oral-maxillofacial surgeon (May 2010 — now retired) and subsequently 'idiopathic trigeminal neuralgia' by two neurologists at Vancouver General Hospital, the first one in June 2010, the next in July 2011. The variability of my symptoms along with a chronic sinus infection and hypersensitivity to acidity in my mouth made management of my pain an exercise in frustration and stress for both me and my patient and loving husband.
I am deeply grateful to The Facial Pain Association in the US as well as the Trigeminal Neuralgia Association of Canada for information and materials that helped me to understand this difficult and horrible condition. Along the way, I have been supported by a host of friends and complementary health professionals who have helped me to hold on to hope and maintain perspective when things got really difficult.
As my story is complicated, I have outlined the major events in chronological order, with links to the relevant blog posts.
2005 September three weeks of left-side facial numbness — after numbness went away, GP #1 told me to cancel the appointment with the neurologist so that he could see people who really needed to see him. I knew that the onset of progressive neurological conditions was often subtle, so I went anyway. And then I found a new female GP #2. I then wrote a letter to GP #1.
2005 October saw neurologist #1, assured me no evidence of demyelinating disease.
2007 Sensitivity to heat when in shower, mid-face right side
2007 November 22 root canal recommended by dentist #1 — ended up being an unnecessary procedure
2008-2009 unusual sensations along upper right gum line when brushing and flossing. Began to develop fleeting shocks to face, sometimes nose, other times cheek, or chin.
2009 Autumn electrical sensation with flash of light while lying down in bed. Dentist suggested possibility of trigeminal neuralgia.
2009 September 3 regular dental check up and cleaning
2009 September 24 filling repaired (lower right?) electric 'shocks' more problematic after this but washing face, flossing and brushing teeth tolerable.
2010 February 4  regular check up with GP #2. Requested referral to Dr. Traboulsee, neurologist, to investigate possible trigeminal neuralgia. Referral declined as Dr. Traboulsee was limiting his practice to MS. Appt scheduled for July 21 with a different neurologist.
2010 March, 23 dental checkup and cleaning — reported on confusing sensitivities in upper right gum. Shortly after replaced filling in upper right back. Concerned about cracks and opted to place crown on upper back molar. Dentist #1 advised that root canal may be necessary if pain increased. (Oh, how naive I was. I hope she never offers a root canal again to somebody who she suspects has trigeminal neuralgia.)
2010 May 6 crown preparation. Electric face gone. (Dentist #1 away between prep and crown insert.)
2010 May 7-9 discomfort eating on right, increasing pain on right side of mouth.
2010 May 10 unable to speak without pain, started using pen and paper.
2010 May 11 saw back-up dentist who referred me to an endodontist for evaluation.
2010 May 12 endodontist unable to elicit pain from hot/cold stimulus on tooth but caused me pain when he pulled my cheek and that seemed to be good enough for him — was determined to give me a root canal whether or not I needed one. Relief from pain during freezing was wonderful but new neurological pain started after freezing came out.
2010 May 19 saw oral medicine specialist, Dr. Goldstein, privately. Diagnosed with trigeminal neuralgia and prescribed Tegretol (carbamazepine), the first drug of choice for TN. Discussed possibility of MS. He assured me I would be in good hands at VGH.
2010 May  lots of severe pain, with triggers all over palate – only able to drink bland fluids.
2010 June 1 saw new dentist #2 and transferred to her. She adjusted crown on upper right and pain started to resolve quickly.
2010 June 3 saw neurologist #2. Pain resolving. No evidence of other neurological problems or brainstem lesions from the physical exam. Recommended staying on Tegretol until next appointment in a few weeks.
2010 June 4-5 swollen lymph nodes on neck, start of fever.
2010 June 7 rash on arms and neck
2010 June 8 saw GP, recommended titrating off Tegretol.
2010 June 15 visit to ER because of numbness in left arm. Took blood. Elevated liver enzymes from Tegretol, indicating liver toxicity.
2010 June 22 saw neurologist #2. Told me left arm numbness was 'normal' and did not mention it in his report to my GP.
2010 July pain again while away in Quebec. Exacerbated by poor crown placement. Resolved after dental adjustment to bite by dentist #2.
2010 September gum disease lower right, at tooth #44.
2010 Autumn minimal symptoms through fall. no drugs.
2011 January 6 gum graft surgery, tooth #44. Requested graft site to be on left palate.
2011 Spring  minor neurological symptoms, beginning of worsening gastrointestinal problems, no drugs
2011 May 23 large and very painful neurological breakthrough in right face while eating lunch.
2011 late May to mid-June long bouts of pain daily in mouth and face, up to 30 minutes at a time. Started acupuncture.
2011 June 13 went to GP #2 and requested referral to recommended neurologist #3 who was touted as trigeminal neuralgia 'expert'
2011 July 28 able to see neurologist #3 on cancellation. Was evaluated 1.5 hours by resident. I provided a detailed written history to assist with diagnosis. Neurologist reviewed history with resident for half hour and diagnosed me with "idiopathic trigeminal neuralgia". Did not believe an MRI would reveal anything as symptoms 'unusual' so put in order for 'non-urgent' MRI.
2011 August 26 – 15 September 15  more nerve pains up face and on palate. Having more gastrointestinal problems, notably with fats, large meals. Started Lyrica.
2011 September/October trip to France interrupted by my health, problems, eating, digesting fats, oro-facial pain, severe constipation. I knew there was something wrong with my body but I didn't know what it was. In Paris, at beginning of trip, GI scope identified a small hiatal hernia and gastritis.
2011 October sought help from public medical system and private health facility. Gave up on female GP #2 who told me that I would have to stop eating fats, threw free sample pills at me and an order for gall bladder ultrasound to book myself, then rushed me out of her office. I left her. Private GP was helpful. Did ultrasound and referral to private GI. Nothing conclusive. New GP #3 (first male ever and likely the last) and hoped for some support as we looked for answers.
2011 October 14 tried to get help at ER at VGH. I feared where I was heading as I was in such GI distress. I weighed about 120 lbs and was having trouble with reflux and lack of bowel movements.
2011 November, December difficulty eating, moving bowels, facial pain. Developed difficulty with swallowing — peristalsis in esophagus — would taste pills and meals afterwards, especially at night. GP #3 insisted I was depressed because of my mother's death a year previously and decided I was making up the swallowing problem when I tried to describe my symptoms. All blood tests etc. came back 'normal'.
2011 November spoke at length with two doctor friends, one of whom (pediatrician) suggested possible MS. I discussed with GI specialist and neurologist #3, both of whom said no. GI focused on cancer and ordered abdominal CT and colonoscopy. Neurologist #3 said take more pills but would provide botox if swallowing continued to be problem.
2011 November 24 neurologist #3 provided botox. Had no suggestions or thoughts about my swallowing problems plus facial pain. Reported in his report to my GP #3 that I appeared 'anxious'. I was anxious and in pain when eating.
2011 December continued to lose weight. Stopped seeing new GP #3 as he believed my problems were fictional and he told me I wasn't 'open-minded' about taking the drugs he wanted me to take.
2011 December 6 went to see GI specialist. Asked about the possibility of MS. He shook his head and then proceeded to order an abdominal CT scan and colonoscopy. He asked to me to keep track of my weight but didn't tell me what to do with it. I told him that my GP thought I was 'crazy' but I knew there was something wrong with my body.
2011 December 19 having increased difficulty with pain and trying to manage on little food, tried reaching out to the neurologist #3 one more time for help as I knew I was approaching a serious stage and was giving up hope. I phoned and left a message of desperation and sent an e-mail asking for help with pain relief by patch, suppository or injection. I got a response saying there was nothing he could do for me except to give me more Botox in February. "Dr ____ has reviewed your telephone message plus your email; his reply is below: He says that he can offer you nothing other than his recommendations for Botox and also to grind up the medication and try to ingest it along with what you eat &/or drink. Otherwise he suggests that you get back in touch with your GP or clinic to arrange for an appointment to deal with gastric issues. Also, if the Botox did help at all you could return for a 3-month repeat treatment at the end of February." Blown off again.
2011 December 22 full abdominal CT scan that was ordered by GI.
2011 December 27 My husband and I presented in emergency at a major hospital and refused to leave until I was admitted.  Hospitalized for extreme weight loss and malnutrition. Weight at time of admission — 109 lbs. Admitting doctor (gastroenterologist on call) believed I had a conversion disorder. No acknowledgement or recognition of any swallowing problems, even when there was documented evidence of a problem with a pill, and although I specifically requested an evaluation of my swallowing, there was no assessment of swallowing.
2012 January 6 Discharged from hospital with 'post-admit comorbidities' of functional dyspepsia, trigeminal neuralgia, anxiety. The final report talked about having given me assurance that there was no underlying pathology. GI functioning did not 'normalize' for another 10 weeks.
2012 January 18 GP #3 laughed at me when in pain, accused me of pretending to have pain in order to get attention, and told me in a derisive tone that I "really need to see a psychiatrist". Unwilling to tolerate that abuse, I walked out of his office and went looking for a new GP. (I wrote a letter to that GP after learning that he continued to receive reports from MRI and gastroenterology. He did nothing to correct the misdirection of reports. He read the reports and discussed them with my husband months after I had moved to a new doctor.)
2012 January  — Winter Edition of the TNA Quarterly, the e-newsletter published by The Facial Pain Association. In it I read:
One of the biggest concerns is the appropriate diagnosis. The most common missed diagnosis involving the face are dental pathologies. Evaluation for an additional missed canal in the tooth that has undergone root canal therapy, or assessment for a crack must be considered. It is recommended a Morita tomographic scan be considered in these cases.
2012 January 30 found new excellent female GP #4
2012 February With assistance from my chiropractor and dentist #2, able to get cone-beam CT scan of teeth that revealed intact root canals. A surprise was finding evidence of chronic sinus disease. I wrote to neurologist #3 to inform him of it but he dismissed the suggestion via e-mail: "Dr. _____ says the changes reported on the dental x-rays are minor and do not cause your facial pain or other symptoms. They are commonly seen in patients with no symptoms of anything. He does not believe that seeing ENT will help, but you are welcome to discuss this with your GP." This response was despite some cases in the medical literature that show trigeminal neuralgia being resolved with treating sinus infections. Dentist strongly recommended ENT referral and surgery. At this point, I trusted my dentist more than the neurologist.
2012 March 5-7 While waiting for ENT appointment, I made another appeal to neurologist #3, pleading for help with a diagnosis of the cause of the facial pain as it was debilitating. I was brushed off again and told to see another orofacial pain specialist who had a year-long waiting list.
2012 March 12 ENT appointment with Dr Amin Javer at False Creek Surgical Centre. Full CT scan of sinuses ordered. As he looked at my infected right maxillary sinus he said, "you must be in a lot of pain."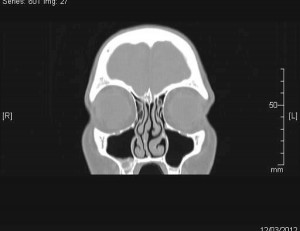 Surgery recommended to repair severely deviated septum and to flush out infected maxillary sinus. Procedure booked for mid-April. (Public system referral made — initial assessment appt November 7 plus 3-4 year waitlist for sinus surgery with Dr Javer.)
2102 April 13 Received requested medical records from hospitalization in December 17, 2011 to January 6, 2012. Abuse and neglect of GP #3 and neurologist #3 made more sense, although unimaginable that people with mental illnesses, or perceived mental illnesses are treated so poorly.
2012 April 17  Two-hour surgery performed at False Creek Surgical Centre.
2012 April 17 – June 11 Relatively minimal nerve symptoms post-surgery, able to stop nerve pain medications by April 23. On June 11, onset of lower tooth pain at site of gum graft surgery, tooth #44.
2012 May 19 non-urgent MRI of trigeminal nerve root showed no problem in targeted area but evidence of demyelinating disease in other parts of brain. Radiologist recommended follow-up MRI. This image from 19 May MRI shows classic MS lesions known as "periventricular lesions".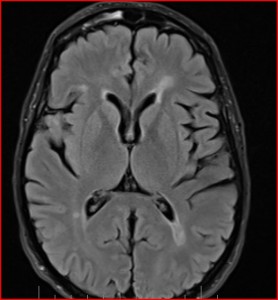 2012 July 5 Five weeks after receiving MRI results and hearing nothing from the neurologist about a recommended follow-up, I stopped by neurologist #3's office to inquire how long it usually takes for him to order recommended follow-up MRI. Unaware that recommendation had been made. Fortunately, they put in an order right away, as they were closing the office the next day for month of annual vacation.
2012 July 19 Follow-up MRI
2012 August 10 report received from neurologist's office, again showed evidence of probable multiple sclerosis. Saw GP four days later and requested referral to MS Clinic at UBC. Also requested follow-up "asap" with ordering neurologist #3 and given appointment for 9 October. At this point I knew I had MS.
This image from the 19 July MRI shows lesions in the white matter, some of which are 'old' or 'cavitated' lesions. I looked for lesions in the pons. The resolution and quality of images on my home computer was not adequate to find them.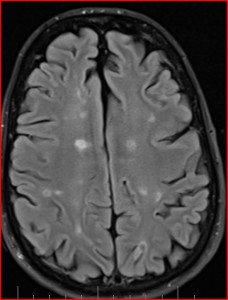 2012 Sept 8 Saw oral medicine specialist privately. Started nerve pain drugs again in addition to topical anaesthetic for trigger points in mouth. Increasing pain when eating and with vibration, such as walking. Cried publicly in drug stores, parking lots . . . embarrassing.
2012 Sept 29 Started using NTI mouthguard and able to come off medications shortly after.
2012 October 9 Saw neurologist #3. The only reason I made the appointment is that I believed it was his responsibility to review the images with me and discuss the results of the MRI. It seemed to me that he hadn't looked at them as he had just pulled up the written radiology report as I walked in. He said I didn't have MS because I had no signs of muscle weakness or altered reflexes. When he said that constipation had nothing to do with MS, I stopped trying to reason with him. I shook my head in disbelief and left his office. None of those comments appear in his written version of that meeting. I also left him a copy of the 2005 assessment from neurologist #1 that I paid for while gathering all my medical records.
2012 November 6 Nerve pain started again and re-started medications
2012 November 10 Sharp electric nerve pain in upper branch of trigeminal nerve. Increased medications.
2012 November 13 Appointment at UBC MS Clinic originally scheduled for December 13, 2012, moved up to November 15, 2012.
2012 November 14 On knees screaming in pain in GP's office with electric shocks up to the top of my head. Hospitalized for pain (video at this link taken by admitting doctor) and GP's concern of suicidal ideation. (I said that we treat animals better as we would put an animal down if they were in as much pain.)
2012 November 15 Official diagnosis of MS at UBC MS Clinic based on MRI and history. No other tests necessary.
2012 November 16 MS neurologist (neurologist #5) came to see me in hospital room. After retrieving MRI images that had been archived, he informed me that there was a lesion on my right pons, corresponding to trigeminal nerve pain. Also recommended rhizotomy and arranged to have me transferred to VGH for surgery. Recommended IV Dilantin to get me out of pain quickly.
2012 November 20 Neurosurgeon assessed me. Surgical options recommended when all drug options exhausted. Recommended staying on Dilantin until no more pain, then come off the drug, then re-start the drug when pain came back. As they had me on a 'suicide watch', neurosurgeon insisted I see a psychiatrist before being allowed to leave the hospital. I requested a female psychiatrist.
2012 November 21 Discharged home after psychiatric evaluation from a young female resident.
2012 November 28 Rash observed on arms, chest, legs plus swollen lymph nodes on neck. Similar to Tegretol reaction. GP wanted to admit me to hospital to come off drug. I refused as I was tired of hospitals. Told her I would be able to get MS neurologist's recommendation the next day. She put in urgent re-referral to local neurosurgeon. I also gave her information to make referral for me to neurosurgeon Dr. Anthony Kaufmann in Winnipeg.
2012 November 29 MS neurologist (neurologist #5) gave instructions for titrating off Dilantin and re-starting Lyrica.
2012 December 4 Woke up from sleep because of pain and pain continued in wave after wave. 911 recommended going into emergency. Admitted to emergency ward for evening, given sedating drugs by IV. Able to sleep a few hours. Discharged home.
2012 December 6 Met with MS neurologist (neurologist #5) again. Reviewed drug history.
2012 December 6 – Dec 27 Lyrica not managing pain. Starting to get edema in my legs. Food and drink consumed with straw on left side of mouth. Not always able to brush teeth or use toothpaste. Many episodes of major breakthrough pain. I made a video of me trying to eat on December 6.
2012 December 10 I wrote a letter to Dr. Kaufmann, made a CD copy of the MRI, and sent the package overnight via Priority Post.
2012 December 13 Christmas comes early!! Surgery with Dr. Anthony Kaufmann scheduled for December 28 in Winnipeg at the Centre for Cranial Nerve Disorders.
2012 December 27 Successful surgery! Able to eat without pain shortly after surgery. Top-notch care in Winnipeg. I also made a video of myself a few hours after surgery.
2014 September 16 Balloon compression rhizotomy #2 with Dr. Kaufmann in Winnipeg.
2015 November 24 Balloon compression rhizotomy #3 with Dr. Kaufmann in Winnipeg.
2015 November 30 Dandy procedure, cutting 80% of trigeminal nerve near the brain stem through the skull behind the ear. Surgery again performed by Dr. Kaufmann in Winnipeg.
See blog 'facial pain' for more information.
15 Responses to "Facial Pain/MS"
Hi Jennifer,

I have spent the evening reading your blog. I cannot believe what you have been through and the work and effort you have put in to documenting everything. I know alot of people probably say, "i have the same kind of thing" but there are not too many people that can really relate. I started having random pain in 2007. Of course no one could help. I have documented, but kind of gave up after a while after seeing dentist, 2 oral surgeon (wisdom tooth out), endodontist (unneccessary root canal), prothodonist, chinese medicine Dr., massage, physio, EMG dept, chiro, neurologist, neurosurgeon & ENT (gave me nasonex), gabapentin, tegretol, lorazepam, hydromorphone….

After having to miss work in February 2012 due to extreme pain. I spend hours in front of my computer desparately trying to diagnose myself as tears rolled down my face.

I discovered Dr. Foran, who I have been seeing since. I take the bus from North Vancouver & back to see him. Yesterday, in his office, I was telling him that I have a new diagnosis. I told him i thought it was sinus related, when he asked me if I had heard of Dr. Javer. I tend to not always pay attention as I get tired of suggestions that dont help. Dr. Foran showed me your blog and I was blown away to read it.
After not getting help for sooo long, I cant imagine how you felt to find someone that understood what you were going through. Everything you have done on your blog will be such a help to others. Please continue to stay pain free. I just want to tell you how amazing your blog is and what a blessing it was for me to read it and not give up hope. Thank you, Cindy

29 Jun 2012 at 11:24 pm

and thank you to Dr. Foran too @ the NUCCA Spine Clinic on Granville Street, Vancouver.

29 Jun 2012 at 11:27 pm

Cindy — I hope you can find a way out of your pain. Feel free to contact me.

08 Aug 2012 at 5:11 pm

Oh girl, I CAN relate! I have TN and MS and I feel your pain. Unlike you, TN wasn't my presenting MS symptom and my dx of MS was super quick. My TN presented later and was also quickly diagnosed. It's seems like you are having so much trouble getting the right diagnosis and that is so normal for people with MS. I saw you poking around on my blog multiplesclerosishelp.wordpress.com if there is anything I can do to help, or questions I can answer, just let me know. I am here to help.

11 Jul 2013 at 8:13 pm

Thanks, Beki. My TN wasn't really my presenting symptom but it was the first big one. At 50 years of age, the assumption is that you have the other type of TN or some unexplained TN or you are a psychiatric case. Even now, a neurologist could give me a full head-to-toe exam and find nothing as all of my lesions are in my brain and none in my spinal cord. The doctor would need to listen . . . but if they've decided that you're a psychiatric case, they close their ears. Can you imagine what it would be like to have a psychiatric diagnosis plus MS plus TN? Those would be the suicides we hear of . . Now that I've been diagnosed, I'm on Tecfidera, and I'm doing my best to move forward. I will keep visiting your website for info. Thank you!

11 Jul 2013 at 10:38 pm

[…] Facial Pain/MS […]

17 Jul 2013 at 10:23 am

I've started taking a patient advocate with me on any visit to a specialist. People, including doctors, act differently if they think "nobody is watching." Just having the patient advocate there changes the social dynamic and makes it harder for the doctor to blow you off. It costs between $100 and $300 US per visit, but is well worth the money.

01 Dec 2013 at 12:48 pm

Some of your symptoms make me think of central nervous system infections with herpesviruses. You had a rash at one point, and trigeminal neuralgia, which could be from herpes zoster. Herpesviruses can be controlled with acyclovir and diet.

01 Dec 2013 at 12:50 pm

That's a really great idea, Lisa. I naively assumed that being a health professional with the ability to understand and use medical language, that I would be treated better than I was. But I had no idea that they would lie to me or omit information or reinterpret my words in their reports. I will never again go to see a new specialist without a witness/advocate. Fortunately, I have a great neurologist now and we have a good trust-based relationship.

01 Dec 2013 at 2:17 pm

Hi Lisa, yes, of course those are all things I considered. My rashes were both related to the pain drugs I was on — carbamazepine and phenytoin. I did not have shingles but I do have the herpes virus. If you read more on my blog you will see that the lesions in the pons of my brainstem are the source of the pain.

01 Dec 2013 at 2:22 pm

[…] Facial Pain/MS […]

28 Nov 2014 at 1:54 pm

Dear Jennifer,

I am so sorry to hear that you too suffer from MS AND this horrible disease called trigeminal neuralgia.

I have been suffering for the last twenty years (24 hours a day for the last two decades – BILATERALLY) – associated with chronic progressive MS from the age of approximately ten years old up to this very day. I turned 51 in January 2015.

I have been having tremendous difficulty finding much out about this curious twosome (tic douloureux/MS) and was wondering if you could help me find any NATURAL remedies for my problem?

You see, I took over 32 pills and up to two thousand milligrams of morphine, cocaine and then heroin ALL through my Medical Practitioner's DAILY for almost twenty years UNTIL Pain Specialist's suggested I turn to cannabis (marijuana) for relief in 1994.

This brings me to where I am today, having no legal source of medical cannabis and medications are NOT working. (My LEGAL medical cannabis garden was cut down by Canadian Police in June of 2014 and my case is heading through the Courts as we speak).

If you or anyone out there has some NATURAL remedies for MS related BILATERAL trigeminal neuralgia, I would be forever in your debt.

Thank you all so much for ANYTHING you can think of for me to try – at least until I can afford enough medical cannabis, money or some other thing to turn to again for relief from this excruciating pain…

Oh. And please pass on to those who might NEED to know…

http://www.umanitoba.ca/cranial_nerves/trigeminal_neuralgia/manuscript/types.html

Thank You.

Respectfully,

Alison Myrden

17 Apr 2015 at 12:07 am

Hi Alison,

I'm sorry to hear of your suffering. Yes, only those of us who have experienced it know how horrible it is — beyond my imagination.

I am intimately aware of the info on the link you provided as that's where I went for pain relief, with Dr. Anthony Kaufmann in Winnipeg. While rhizotomies may not be a 'natural' solution, it seemed like my best bet as I couldn't handle the drugs.

I've documented all of these things in my blog with photos and video that may be of interest to you.

I would encourage you to contact them and talk to them.

Jennifer

17 Apr 2015 at 3:17 pm

Found your blog really informative. I have been suffering for 10 years from TGN. In 2008 I had MVD. After surgery I was still experiencing pain intermediately sometimes very mild and sometimes really bad. In 2010 I was referred to the MS Clinic at UBC (Dr Anthony Troublousee). After 3 years he determined that I did not have MS. Still experiencing pain I am going to persue this yet again and will probably have to go the whole route again (neurologist, neurosurgeon MRI's etc.) I know it will take about 3 years! Did you come across any good Neurologists in the Vancouver area. I am probably considering a Rhzotomy. Did you ever explore surgery in Vancouver. Would appreciate some advice from you. Thanks

30 Sep 2015 at 8:09 pm

Hi Dianne — I guess it's a good thing that you don't have MS. Yes, if you read more on my blog, you will find my neurologist and my meetings with Dr. Honey.

29 Oct 2015 at 3:18 pm
Leave a Reply