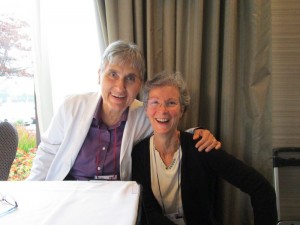 I had the great pleasure of meeting Dr. Wahls at a conference held here last month, sponsored by the Canadian Neurovascular Health Society.
As soon as I heard she was speaking, I signed up. According to the conference organizer, I was the very first person to register. (For a nice summary of the conference, Joan Beal wrote up a post about it. Of course, that was another thrill for me — the chance to meet her! She is a true champion and very smart woman and I was really glad she attended.)
The day before she spoke, I found myself face to face with Dr. Wahls. I desperately wanted to know how to get across to people with MS that it's worth trying her diet. She told me that I just need to accept the fact that some people are so attached to their foods and habits that they will resist. The best I can do is to encourage and set an example. But it continues to be very difficult for me to watch others in the MS community in decline while I continue to improve. No fatigue, able to work out, able to see clients again . . . I want this for everybody.
It was wonderful for her to have the chance to continue spreading the word about her own amazing story and others' successes by following The Wahls Protocol.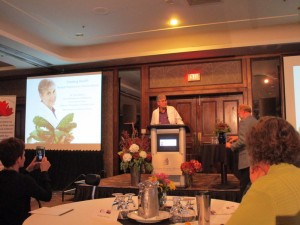 After the talk, Dr. Wahls had a book of The Wahls Protocol signing in the hallway. I had mentioned to the audience that we have a Wahls Protocol Support group in Vancouver, and I encouraged people to talk with me if they wanted more information. When I went out to the book signing, there was still a long lineup. I waited until the end so that I could talk with Dr. Wahls.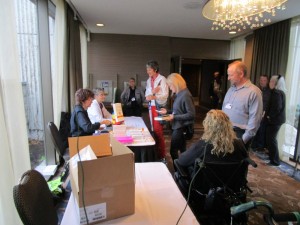 Dr. Wahls was so generous with her time. She answered everybody's questions thoroughly. I first mentioned to her that I had been in Marshfield, Wisconsin at the same time that she was there. She was a physician at Marshfield Clinic and I was doing my clinical fellowship.
I talked to her about the drug I have been taking for two years. The natural way to promote the antioxidant NRF2 pathways is through diet, exercise and stress reduction — all parts of The Wahls Protocol. I considered the side effects — which for me, were minimal — the recent cases of PML, and the recent discovery of the lymphatic system existing within the brain. After discussing a bit more with my husband, I decided to discontinue Tecfidera.
I bought another copy of her book and had it autographed. I'll use this as a fundraiser or a gift for members of our local support group. I was really pleased to see how many of our group who attended the conference.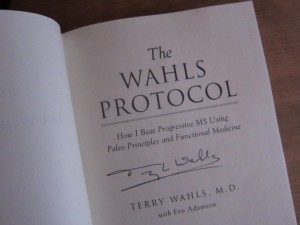 I left the conference early as there was election work to be done . . .