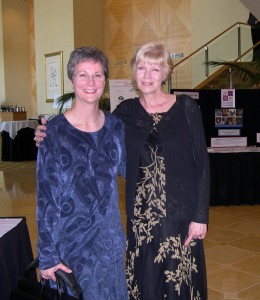 I met Shirley online in November, 2002. She had left a message on the National Aphasia Association website and identified herself as a woman whose husband had aphasia and they were located in Victoria. I responded to her call for help as I was working on the BC Aphasia Centre in my "spare time".
That was the beginning of many years of working together to try to find support for her husband. In turn, she became a support to many other women across Canada dealing with similar challenges.
For many years, Shirley was a big support for me and my dream/vision of setting up an aphasia centre in BC. She nominated me for an award through Volunteer Vancouver where I became a finalist in the 2006 Community Service (individual) award. The awards dinner was a swanky affair at the Bayshore Hotel. I lost to a football player who volunteered with Big Brothers but it was amazing to have the whole story summarized and shown at the ceremony. And I was very pleased that Shirley and Dallas were at the dinner!
Shirley was like a big sister and mother to me, always there to encourage me and offer support. I kept all of her emails. This is what she wrote to me after filming our interviews for the video above.
Of course on the way home I mentally slapped myself for NOT saying some of the things I thought were important — mainly when it came to thanking you. I should have thanked you for giving 5 years of your own live to making the lives of others better; for never giving up; for always working towards making a real concrete Aphasia Centre a reality and for speaking for those who could no longer speak for themselves. I also should have said that my husband was in the hospital for 6 months and in that time I met one person who truly cared about what would happen to him, and that was you — the one person who was "only" a volunteer' the one person who was making a difference and not getting paid for it! . . . well, next award because there are more to try for and I will keep entering your name because in my heart you are the most wonderful person I have met in many, many years . . .
With a cheerleader like that, is it any wonder that I loved this woman? She was so kind to everybody and so heroic in her support and love for her husband. She was a petite woman yet so determined and strong.
While I was suffering from the trigeminal neuralgia, we stayed in touch via email and facebook. She continued to support me with her kind thoughts and words. Two weeks after my official diagnosis of MS, I learned that Shirley had had a stroke on November 30, 2012. I was in so much pain at that point and unable to consider seeing her until after the rhizotomy in Winnipeg on December 27.
I did make it over to Victoria to see Shirley once while she was in the hospital in January of 2013. It took a lot of energy to do things like that back then but I really needed to see her and tell her I loved her. While I've been getting stronger over the past year, I was making tentative plans in my head to go back and visit again. And then on facebook, one of her sons gave updates on an acute hospitalization for pneumonia. And a few days later, another son wrote about her death, June 12, 2015, at the age of 66.
My husband and I spent a few days last week at Saturna and I thought of Shirley the whole time. She always told me to do what I could when I was young and able so that I'd have no regrets if and when Daniel or I lost our health. She was right. So, as we hiked and watched the orcas, I thought of Shirley smiling and cheering me on.
Thank you for being a part of my life, Shirley. I was honoured to call you my friend.