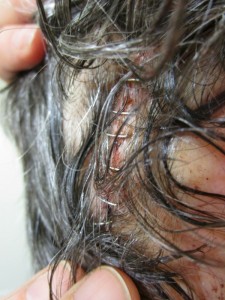 I asked Daniel to take a photo of my staples the day after surgery as I wanted a record of the healing. Each day, I had a bit more energy and felt encouraged with the recovery. I knew I was to watch for signs of infection or discharge from the wound. No issue there. And it was nice to know that once I washed my hair, my scar wasn't visible.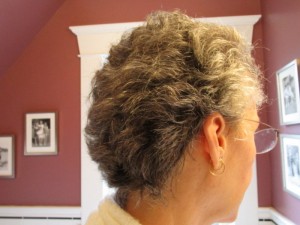 And after a week, it seemed that most of the things I most feared were not happening — headache, return of pain etc. At about day 10, Thursday, December 10, I thought I was coming down with a cold as my nose started to run. After a couple of days I started to wonder why the cold didn't evolve like a normal cold with increased congestion or a sore throat. Then I started to wonder if this was a dreaded cerebrospinal fluid leak. So, on Sunday, I wrote to Olive in Winnipeg and asked if I should be alarmed.
I received a response the next day and was advised to keep my head elevated 24 hours a day to see if the dripping would resolve on its own. In my discharge notes they had recommended I see my doctor as well. I saw him on Tuesday afternoon. He thought it was serious enough to send me to Emergency. So, I went and they admitted me for observation that resulted in an unsatisfactory experience for all involved.
It was somewhat frustrating at the hospital because I saw different people every day and each had a different opinion. I had provided them with Dr. Kaufmann's cell phone number and email address but they did not contact him. However, on Thursday morning when they started wanting to escalate the intervention, I called Dr. Kaufmann myself to discuss. He had a different choice of management. I wanted to discuss it further with the resident who had been assigned to me that day but he was too busy to come and talk with me. The neurosurgeon whose official care I was under only saw me once during the whole hospitalization early my first morning and never came back. All communication with him took place between the residents and the nurses. Somehow, my neurosurgeon in Winnipeg and I were not part of the decision-making team.
It is very difficult to build trust when communication is poor. And I spent two full days in the hospital confused, receiving mixed messages, in less than ideal conditions.
I waited for several hours for Thursday's resident to return to discuss and formulate a plan. He was paged and said he would be by in 30 minutes and I waited an additional two hours after that. It was approaching dinner time. I was on a ward with sick people . . . my husband had come by to pick me up, so I discharged myself "against medical advice" as the nurses had no discharge instructions from a doctor.
Upon my arrival home, I wrote to my neurologist and to Dr. Kaufmann explaining the situation to them. I am capable of doing everything that the nursing staff was doing for me at the hospital, in a much cleaner and quieter environment — monitoring my temperature, asking myself if I have any pain or headache, giving myself medications, etc. The only thing I can't check at home is my blood pressure but it's always 95-100/65 so it's not really an issue as far as I can see. And we live 5 minutes away from the hospital by car or ambulance.
The irony is that last night I came down with a real cold, so that has made things a bit tricky for me. I have to stifle coughs and sneezes and make sure that I do not blow my nose. I am sitting a lot, sleeping with my head up at least 30 degrees and doing my best to eat well to maintain healing nutritional status.
My right ear is somewhat plugged so I'm taking that as a good sign, indicating that there is fluid building up there and perhaps suggesting that a leak into my ear from my skull is slowing and possibly healing.
Dr. Kaufmann has asked me to keep him informed of my status. The nasal drip has been present for 10 days and is much less than it was a week ago. If it doesn't resolve, I may need another surgery to repair it. But we still don't know if it's a leak or not.